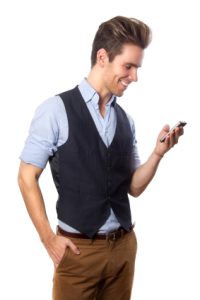 Don't want to go online or talk to anyone? Cool! Just pick up your mobile and get profiles sent direct to you. Swap SMS and photos with real guys now!
Create your profile and swap messages with real guys from all over the UK. On the train, in the pub, down the gym – you can do it anywhere. Your mobile number is never given out so it's private and discreet.
Once you've signed up, we will start sending you matches of men in your chosen area to the privacy of your mobile. It's one of the fastest ways to meet up with guys near you and it's really simple so give it a try now!
How do I join?
Text the word LADS to 66365 – We'll then send you a text asking your age plus the age of the people you want to chat with, along with some additional information such as your post code. At this stage, all messages are free.
I've registered and received my first matches, now what must I do?
Great, it's easy just simply reply to the text like you would normally and your message will be sent to the sender.
How much does it cost?
Charges will appear on your mobile phone bill for £1.50 for every reverse billed message you receive. This entitles you to send and receive 5 messages with other members. These messages may be a 'Hi' message that another member has sent, or chat messages that other members send in response to your 'Hi' message. After every 6 reverse billed messages (you've spent £9), you'll be sent a free text message advising how much you've spent and inviting you to text MORE if you wish to continue to use the service.
So what are you waiting for?! Get matches on your mobile today with ManChat!