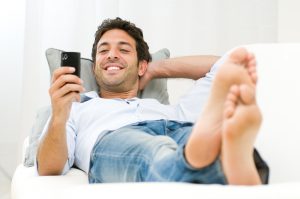 Dating has had to take a back seat for a lot of people in the current situation but it doesn't need to stop entirely.
There are a number of ways you can still "go" dating and spend time getting to know someone, or maintaining the connection you already have.
We've listed a few of our favourites below for you to try!
Have a video call date
Whether you've never met, or you've been together a while, this is a great way to connect and have a decent chat. You can see each other so it's easier to see emotions and hear tone of voice so you will see each other's personalities. There are many different apps that offer video calling and some even have built in games that you can play!
Cook something together
You can also use video calling to do things together like cook a meal. You can both agree on what it's going to be beforehand to give you a chance to prepare, then you can chat and cook and even eat together.
If you don't like cooking, you could order a takeaway and eat it together on video chat, or if you're a little adventurous (and trusting!) you could order a takeaway for each other.
Watch a movie together
If there's something you both want to see, be it a movie or a TV series, watch it together! You can message throughout or have a conversation about it at the end to pick apart what you've just watched. It means you immediately have someone to talk to about something exciting happening!
Go for a walk together
Now we're allowed to meet outside at a 2m distance, you could meet up and go for a walk round your local park or a long the seafront if you're on the coast. It will give you chance to either get to know each other, or see each other if you've not been together for a long time.
Have a sexy phone call
If you're isolated away from your partner it can be very lonely and you'll be missing the intimate moments. It's the perfect time to experiment with some phone sex! You can either explore fantasies or relive exciting times that you remember.
If you're currently single and want to start dating, there are loads of guys from all over the UK chatting on Man Chat so join today!