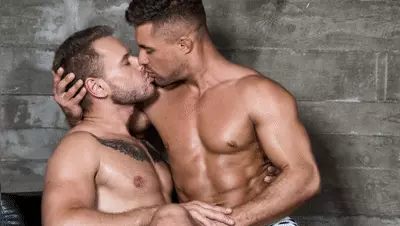 For sex to be great, it should ideally be an erotically charged, exciting and fun experience that leaves you and your partner both feeling orgasmically satisfied and exhilarated. Unfortunately for most people, the quality, and frequency, of sex usually starts to wane once the honeymoon period is over in a relationship. How you feel about yourself, your body confidence, and the way that you connect with other people, also play a part in the fulfilment of your sex life.
Not getting enough sex, if you're in a relationship, may tempt you to stray and go in search of casual gay sex that is uninhibited. Gay, bi and straight men looking for ways to make their sex life more thrilling enjoy no strings attached fun on the phone, when they hook up with guys who are just as horny, on ManChat.
Whether you're looking for short-term NSA encounters, or hoping to meet a man who is Mr Right for the long-term, you can definitely find the perfect match for you, on a phone chat, text and online dating service that is nationwide.
Casual Gay Sex – The Pros & The Cons
Casual gay sex will appeal to you, if you're the kind of man who tends to view sex as a goal, and you want it frequently and regularly, with a variety of partners. Besides being exciting and risqué, casual sex gives you the freedom to explore your sexuality, with no pressure or obligation involved.
Pros:
Having sex with someone you've just met can be intoxicating, addictive and liberating
Hooking up with different guys can add variety to your sexual repertoire
One-time hook-ups can be the perfect antidote to getting over a relationship break up, or help to enhance the level of intimacy that you have in a current relationship
Casual sex can give you a massive ego boost, and elevate your self-confidence
It's easy to connect and click with a genuine casual sex partner on ManChat, for flirty banter, or a hot date that promises casual sex
Cons:
You've got to be willing to put in the effort to get what you want – sign up for free on the gay text chat dating service and start your casual sex search today
Not all casual sexual encounters will live up to your expectations – so be realistic!
So many men, so little time! If you don't have a sexual type, you may feel overwhelmed by the variety of profiles of different men featured on the site
Relationship Gay Sex
When you're in a committed gay relationship, the sexual intimacy that you share with your partner means a lot more than just getting your rocks off. In a relationship, you can feel vulnerable, emotionally bonded and loved. If the partnership lacks trust, mutual respect and harmony however, sex usually suffers and can become a chore, an obligation or non-existent.
Pros:
Great sex in a relationship makes you feel fulfilled, loved and happy
You know each other's sexual likes/dislikes and have healthy boundaries
If you're on the same wavelength, you can explore your sexuality, kinks and fetishes in a safe space
Your emotional needs are also met
Sex is virtually on tap
Cons:
It's easy to fall into a predictable sexual pattern – sex only at the weekends, or routine sexual positions
Sex that is void of passion, excitement and eroticism can be boring and deeply unsatisfying
Bad sex, or no sex, in a relationship can leave you feeling empty
When you're comfortable with each other's likes/dislikes, there's little reason to experiment and explore
Lack of sexual activity can make you crave steamy one-night stands and casual sex with hot guys
You can get the balance right and enjoy great sex – whether you're single, or in a happy (or sexless) committed relationship – by enhancing your flirting skills with someone you connect with on ManChat gay chat line. Anonymously chat, text and communicate online, and explore the sexual possibilities. If you're on to a good thing, it's easy to turn your flirtation into a date night sexual encounter.