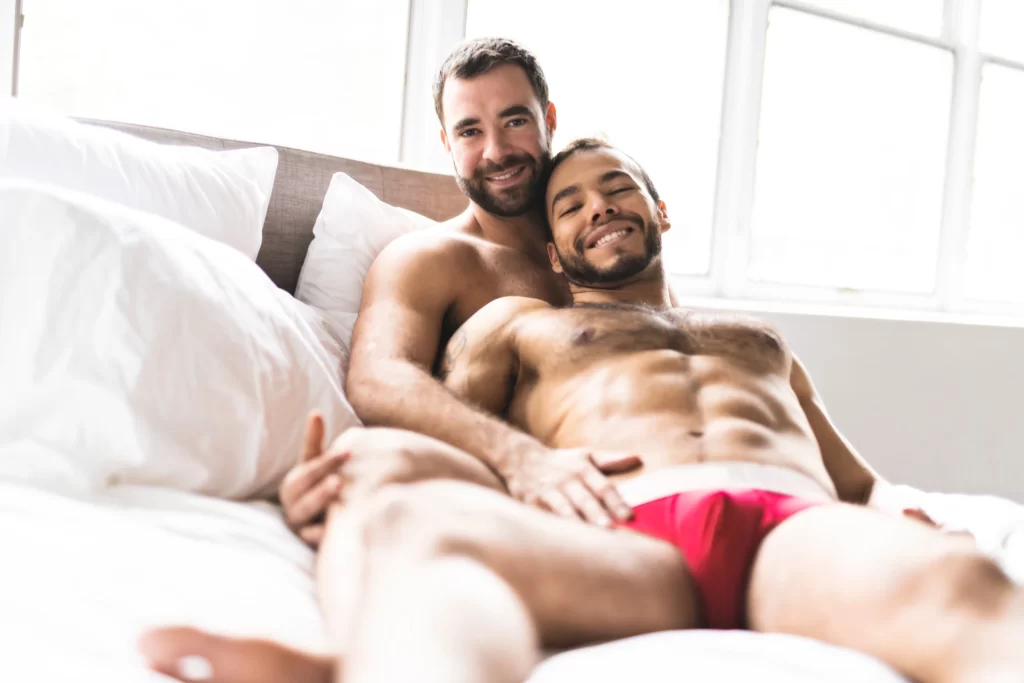 Being in a NSA date or relationship can be a lot of fun for both partners, provided that you share the same outlook and expectations. On the dating scene, casual hook ups are commonplace, and they provide a variety of benefits that are not solely sexual.
Hooking up for completely casual sex is no longer considered taboo. Open-minded men and women can enjoy the sexual liberation that comes with not bedding the same person twice. On ManChat – the UK's busiest gay phone service – you'll easily connect with hot and horny guys looking for a good time, nationwide.
As a single adult, you're free to pick and choose whom you date without having to deal with regret in the morning. If you're in a relationship that isn't satisfying your high libido, NSA dates with sexy strangers can deliver the thrills that you're seeking.
What's Your Arrangement?
If you've got a crush on a friend and secretly desire to get up close and intimate with them, you need to pay attention to the unwritten NSA dating rules… Having casual sex with someone you already know is defined as a 'friends with benefits' hook up.
Your fuck buddy doesn't have to listen to your jokes, anecdotes and problems when you're getting together for physical pleasure and sexual gratification. They may however, develop an intimacy attachment, if you're hooking up on a regular basis.
NSA arrangements work best when you're dating new people that you've instantly clicked with on a gay phone chat line service or a hook up app.
When your goal is to achieve a successful NSA date, there's absolutely no need to be emotionally invested. You can let go of the usual dating concerns, and simply relax and enjoy the moment. You also don't have to think about whether or not you've made a lasting first impression, or what your chances are of date No.2.
Are You Ready?
While it's exciting to meet new people, and to explore your sexuality and fantasies without fear of rejection or ridicule, it's crucial that you're honest with yourself before embarking on NSA dating.
Are you ready to let go of relationship expectations? Can you forget about past connections and live in the moment? How much do you desire the exploration of your wild and kinky side?
It's essential that you're honest with the person you're meeting for casual sex. Let them know that you're only interested in adult fun that lasts one night. It's also common sense to use protection, especially if you're indulging in on-the-go quickie sex with a multitude of strangers.
Follow The NSA Dating Rules
Flirting with a hot guy on ManChat is fun, and it can greatly boost your self-confidence. To maximise your chances of a successful NSA date, it's best to avoid sharing information that is too personal. Focus instead on flirty banter, and chat about general topics, before arranging a date.
On date night, relax and chill. NSA dates don't have to include dinner and drinks, or other activities that are usually associated with traditional dating. It's perfectly acceptable to be direct and plan to meet up just for sex, if that's what you both want to do.
There's nothing selfish about focusing on your body and pleasure. A NSA date offers an opportunity to try out things that you may have been afraid to do in a committed relationship. Be open-minded and let your playmate know what you like, and what you want to experience.
When you're done having sex, avoid any pillow talk. If you've hooked up at your place, give your date an hour tops before politely asking them to leave. The same timeframe applies if the encounter happens at theirs, and you're the one doing the departing.
Don't expect a text from your one-night stand lover the next day. When you play by the successful NSA dating rules, there's no time to waste on a connection that is purely pleasure based. It's much more fun focusing on exploring fresh dating opportunities.